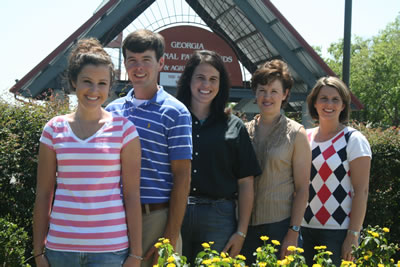 The Executive Committee pictured left to right:
Junior Executive Chairs Katie Gazda and Trey Davis;
Adult Executive Chairs Heather Shultz, Carolyn Gazda and Christy Page.

Greetings on behalf of the Georgia Angus and Georgia Junior Angus Associations! We are very excited to be hosting the 2009 National Junior Angus Show and are anticipating a "Sweet Southern Showdown!" It's a true honor for the world's largest single beef breed show to be making its way back down to the South for another great event!
Angus enthusiasts across the southeast have been working hard to prepare for this great event coming to Perry, Ga., July 19-25, 2009. We would like to thank all of the wonderful volunteers that are serving on committees and that are assisting with fundraising efforts. Without the support of so many Angus enthusiasts and supporters, this event would not be possible.
We hope that you plan to visit the deep South in late July 2009. Our goal is to show all of our guests some great southern hospitality. We are trying to provide as much information on this website that might be helpful in preparing for the show and in planning your travels. Please let us know if you have any questions concerning the show and we will be more than happy to assist you anyway possible.
We hope to see you in Perry, Ga., July 19-25!
Sincerely,
2009 NJAS Executive Committee
2009 NJAS Executive Committee