The American Dream Embryo Lottery
| | |
| --- | --- |
| LUCKY WINNERS! | EMBRYO PACKAGE |
| Steve Sullivan, Park City, UT | Cool Spring Plantation, Halifax, NC, SAV 8180 Traveler 004 Embryo Package |
| Kirk and Sabrina McKinney, Cedar Crest Farms LLC,Autaugaville, AL | Cool Spring Plantation, Halifax, NC, Rito 2V1 of 2536 1407 Embryo Package |
| Walt Emory, Tecumseh, OK | Express Ranches, Yukon, OK |
| Tracy Woods, Perkins, OK | Sandpoint Cattle Company, Lodgepole, NE |
| Connie Walker, Mississippi Junior Angus Assn, Potts Camp, MS | Three Trees Ranch, Sharpsburg, GA |
| Barry and Ami Goldstein, Brookefield Farms, Granville, NY | Basin Angus Ranch, Hobson, MT |
| Mike and Barbara Domel, Double Creek Farms, Meridian, TX | Vintage Angus Ranch, Modesto, CA |
| Jennifer Ringwelski, Marengo, IL | Fair View Ranch, Big Timber, MT |
| Tim and Andrea Fitzgerald, West Grove, PA | Pollard Farms, Waukomis, OK |
| Kenny Woodard and Allen Hammill, Gold Hill Angus, Smithfield, NC | Monarch Farm, Folsom, LA |
| Bryan Davis, Circle D Angus Farm, Council Hill, OK | Ratcliff Angus Ranch, Vinita, OK |
| Ryan Aalderks, Aalderks Angus Farm, Sacred Heart, MN | Champion Hill, Bidwell, OH |
| Jimmy Levens, 7L Farms, Wiggins, MS | Rollin' Rock, Sidney, MT |
| Ryan Aalderks, Aalderks Angus Farm, Sacred Heart, MN | Shoulderbone Plantation, White Plains, GA, Woodhill Foresight Embryo Package, |
| Kevin Bicksler, Big Grove Angus,Newark, IL | Rutherford, |
| Tommy and Pam Jumper, Rock Creek Angus, Paragould, AR | Sydenstricker Genetics, Mexico, MO |
| Tim DeHoff, Tonganoxie, KS | Summitcrest Performance Angus, Summitville, OH |
| William Werner, Werner Angus, Rapids City, IL | Bohi Land and Cattle Company, Wellsville, KS |
| Richard Dyar, *donated to 2008 NJAS, Crossville, AL | Opperman Cattle Company, Sandy, OR |
| Paul Moore and Mark Sexton, Three Forks Ranch, Fort Gibson, OK | Limestone LLC, Stillwater, OK |
| Henry and Marcia Russell, Russell Angus Farm, Diagonal, IA | Rolling R3 Ranch, Edmond, OK |
| Bruce Anderson, Anderson Angus, Lytle, TX | Shoulderbone Plantation, Wulffs EXT 6106 Embryo Package, White Plains, GA |

The 2007 NJAS Embryo Lottery – with 22 Elite embryo packages!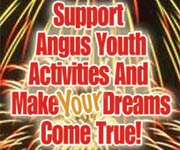 Get the quick and easy online order form!

Click to learn more about your chance to reach your "Dream" of owning offspring from some of the most elite cows in the Angus breed. The NAILE in Louisville, KY, will be the kickoff of our Embryo Lottery. Through some very generous donations of embryos from some of the most prestigious firms in the nation, we are able to offer the chance to win a package of embryos to several lucky participants. All you have to do is purchase one or more of only 1,000 tickets to be sold on these embryos. The ticket price is $100. The lucky winners will be announced at the National Junior Angus Show in Tulsa OK. Your chance of reaching your "American Dream" just went up!


Plenty of opportunities to "Reach for the Stars"
and help Angus juniors fulfill their Dreams!

Embryo Lottery tickets are $100 each. 22 winners and only 1000 tickets will be sold!


Gold sponsor pins for $100



Silver sponsor pins for $50




Class sponsorships for 2007 NJAS for $100
All donors will be recognized at the NJAS and in the show program!

$1-$499


$500-$999



$1,000-$4,999




$5,000-$9,999





$10,000 and up
Thanks to these breeders for their generous support!

Handmade quilt auctioned at Angus Reception in Louisville
Purchased for $2,000 by Belle Point Ranch, Fort Smith, Arkansas

Heifer donated and sold at auction by CMC Angus, Welch, OK
Purchased for $2,400 by GCD Cattle Co. LLC, Quapaw, OK

"Feast of July" dinner party for 85 people at NJAS
Purchased for $8,500 by Quintin Smith and Family, Lebanon, TN; Brookefield Farms, Granville, NY; Werner Angus, Rapids City, IL; Jarold Callahan; Oklahoma City, OK; Belle Point Ranch, Fort Smith, AR

Original painting by C.J. Brown specifically painted for 2007 NJAA
Purchased for $9,500 by Cherry Knoll Farm, West Grove, PA

Premium advertising pages in 2007 NJAS Show Program
$10,000 purchased by Cherry Knoll Farm, West Grove, PA
$5,000 purchased by Werner Angus, Rapids City, PA
$5,000 purchased by Stevenson Basin, Hobson, MT
$2,750 purchased by Ultimate Genetics, Wheelock, TX
$2,500 purchased by Camp Cooley, Franklin, TX
$2,500 purchased by Belle Point, Fort Smith, AR
$2,500 purchased by Angus Booster Club
$2,000 purchased by Turner Farms, Satin, TX
Other ads sold to Petteway Citrus and Cattle, Zolfo Springs, FL; Blackjack Angus, Seminole, OK; Davis Angus, Burns Flat, OK; National Cattle Service, Elgin, OK

Feature pregnancy donated by Gardiner Angus, Ashland, KS
Purchased for $8,000 by Tanner Farms, Ellisville, MS and Whitestone Farms, Aldie, VA

Feature lot auctioned donated by Rolling R3, Edmond, OK, and Express Ranches, Yukon, OK, auctioned at Bases Loaded Sale, Denver, CO
Purchased for $15,000 by Limestone LLC, Perkins, OK

Feature lot donated by Christiansen 4D Ranch, Delaware, OK, and auctioned at Denim & Diamonds Sale, Denver, CO
Purchased for $6,500 by Limestone LLC, Perkins, OK