Auctions/Raffles

Gallagher scales raffle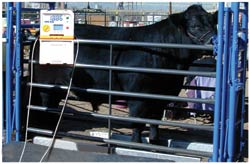 Gallagher has donated a set of scales to be raffled. You can buy tickets from the Kentucky juniors for a chance to win a Gallagher SmartScale.

One ticket $1 • Six tickets $5.

For more information about the SmartScale system click here.

For more information about Gallagher visit their Web site at www.gallagherusa.com.
---
Aluminum Show Box
We will be raffling a two-piece, all aluminum show box.
Tickets are $5 or 5 for $20.
Thank you to Gary Simpson for donating the show box.

---
Sensational Raffle Heifer • Champion Hill National Blacklass
This sensational daughter of B/R New Design 036 from the famous Blacklass family developed at Gardiner Angus Ranch is one of the premier young females at Champion Hill. You can purchase your tickets in Louisville during the annual meeting and throughout the North American Show.
One ticket $5 • Five tickets $20
Donated by Champion HIll